Thousands of university, college, and high school learners are confronted with a common obstacle in lab classes every semester at campuses across the globe ... there simply isn't enough equipment to go around.  Lab assignments are designed for one learner to complete in a class period, but a lack of lab equipment usually requires lab activities to be completed in 'small teams'.  No matter how creative faculty are in crafting 'team' lab activities, the end result is unchanged - some students watch while other students get first-hand experience.  Exacerbating this issue is the fact that this typically occurs in large, lower division lab courses where developing lab skills are so crucial for success throughout the degree program.

myVRscope™ was developed by the Immersive Learning Experience (ILX) team in the Innovation Center of Excellence at Adtalem Global Education as a solution, employing an 'intelligent, immersive learning experience' using Artificial Intelligence (AI) and Virtual Reality (VR) that not only mitigates the obstacle, but is actually a uniquely effective learning experience for on-campus and online learners alike.

myVRscope™ is an immersive microscopy lab ecosystem, where learners and faculty access myVRscope™ through a single sign-on that integrates the immersive learning experience with the learning management system and allows them to move seamlessly from Oculus Go to Oculus Touch - and to also use the mobile supplement.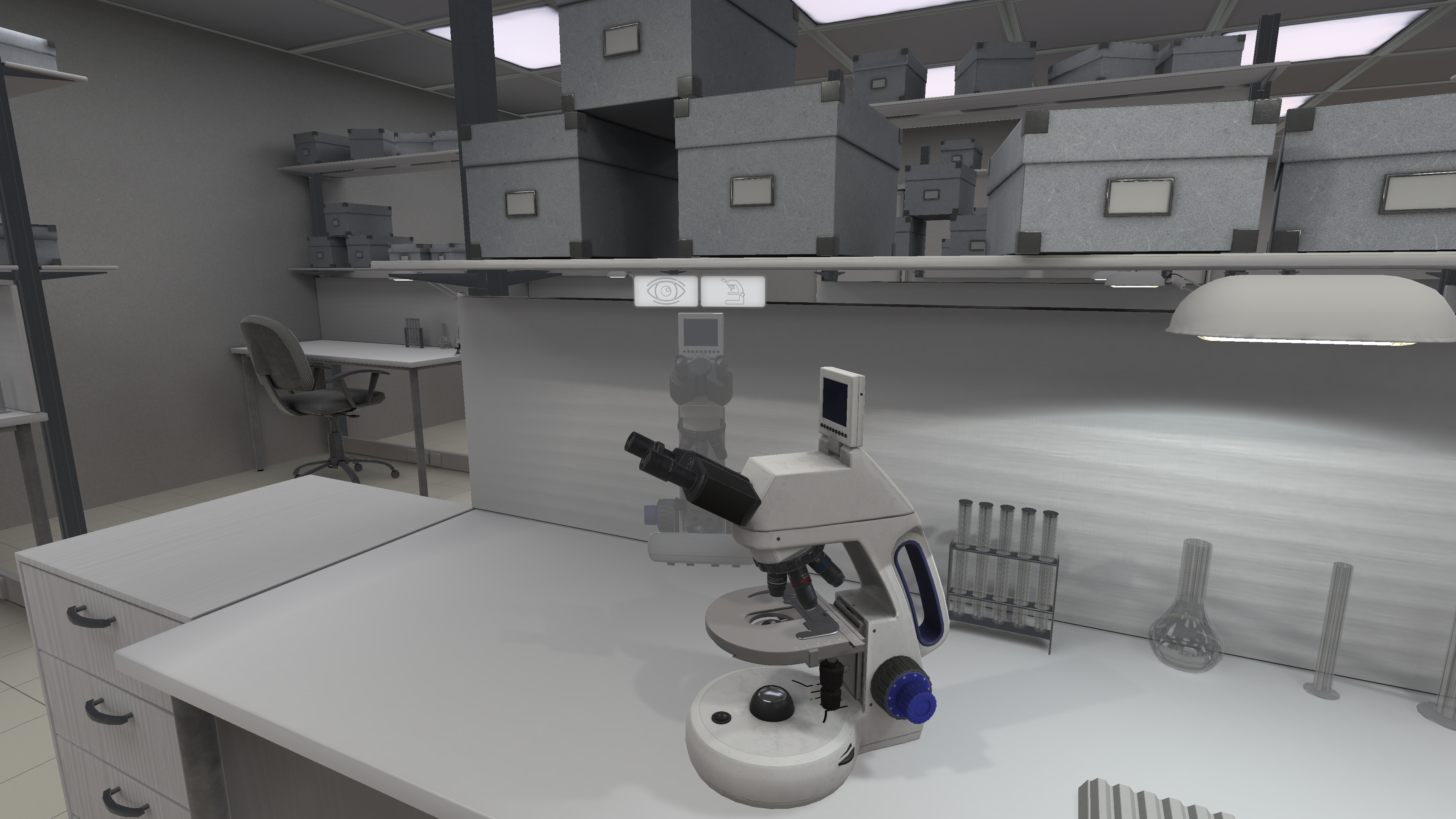 Features
The cloud-based (AWS) enterprise application allows all activity in the system to be tracked/supported by the cloud-based web dashboard available to learners and faculty.
The "Lab Builder" in enterprise web dashboard is used by faculty to setup microscopy labs for learners in their classes - adding lab protocols, images, videos, etc. that the learner accesses through their myVRscope™.  The dashboard also provides faculty with analytics for usage and learning outcomes for the learners in their classes.
myVRscope™ incorporates a Web Browser in the immersive learning experience that learners use to access additional resources and supplements for lab activities.
Dr Beaker
myVRscope™ includes "Dr Beaker" - an AI tutor (using Google Dialogflow), that is fully integrated in the application. Dr Beaker provides individualized support for the learner and enables a deeper exploration (and mastery) for microscopy history, the fundamentals of compound light microscope functionality, and microscopy protocols.
Dr Beaker's appearance, animation, and 'natural language processing' (NLP) contribute to a greater sense of embodiment and presence in the experience for the learner.
Emily Battaglia, ILX Learning Experience Designer, João Morais, ILX Senior Game Engineer, and Pedro Tempera, ILX Game Programmer brought the Dr Beaker AI Tutor to life.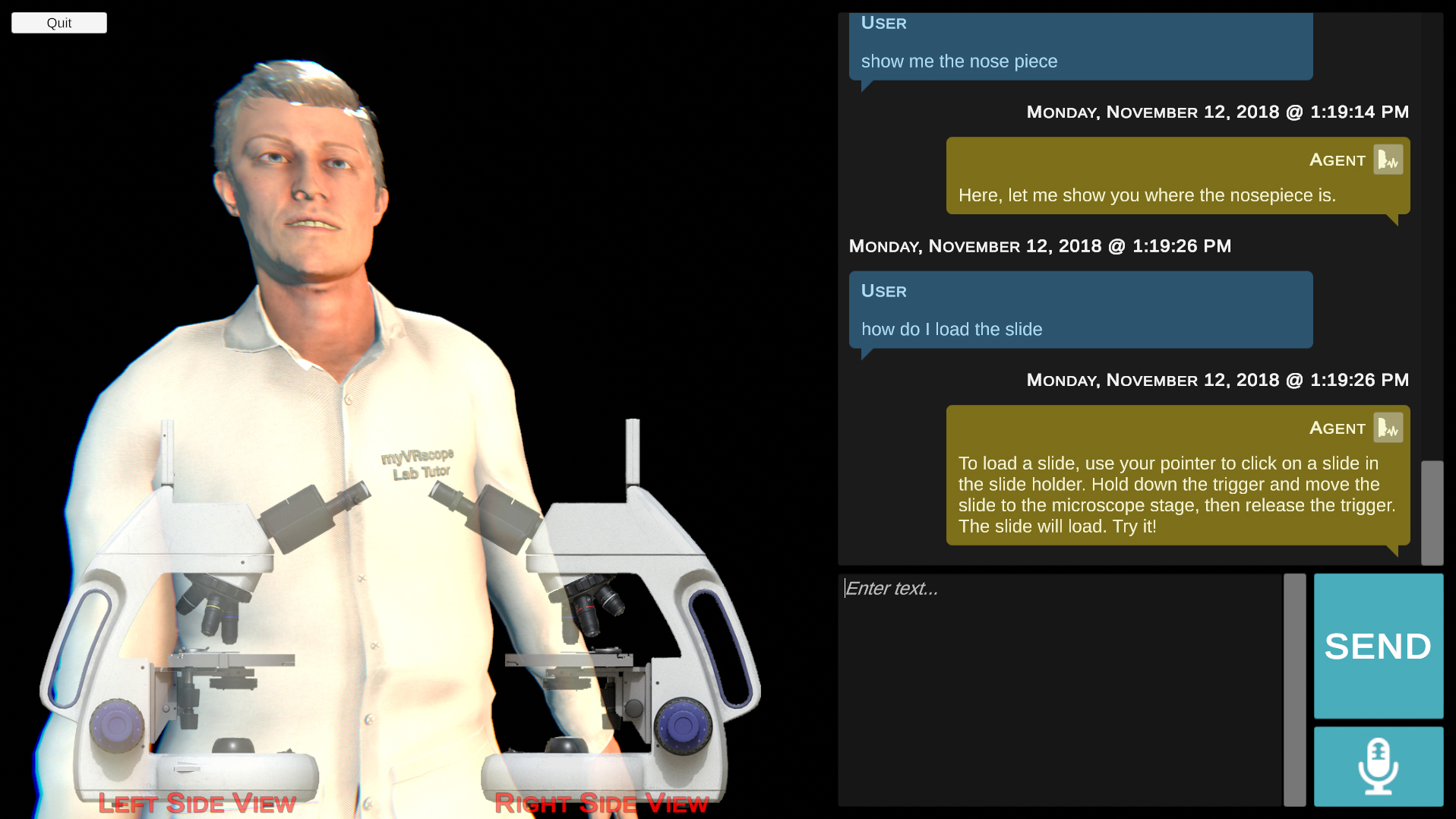 At the core of myVRscope™ is the accuracy of the 3D model of a compound light microscope.  Meticulous in every detail, all components of the microscope are articulated in the manner of its physical counterpart.  Using state of the art modeling and surfacing techniques, Sergio Azevedo, ELT Senior Game Artist, created a nearly photorealistic 3D model that still performs well in real-time rendering for Oculus VR.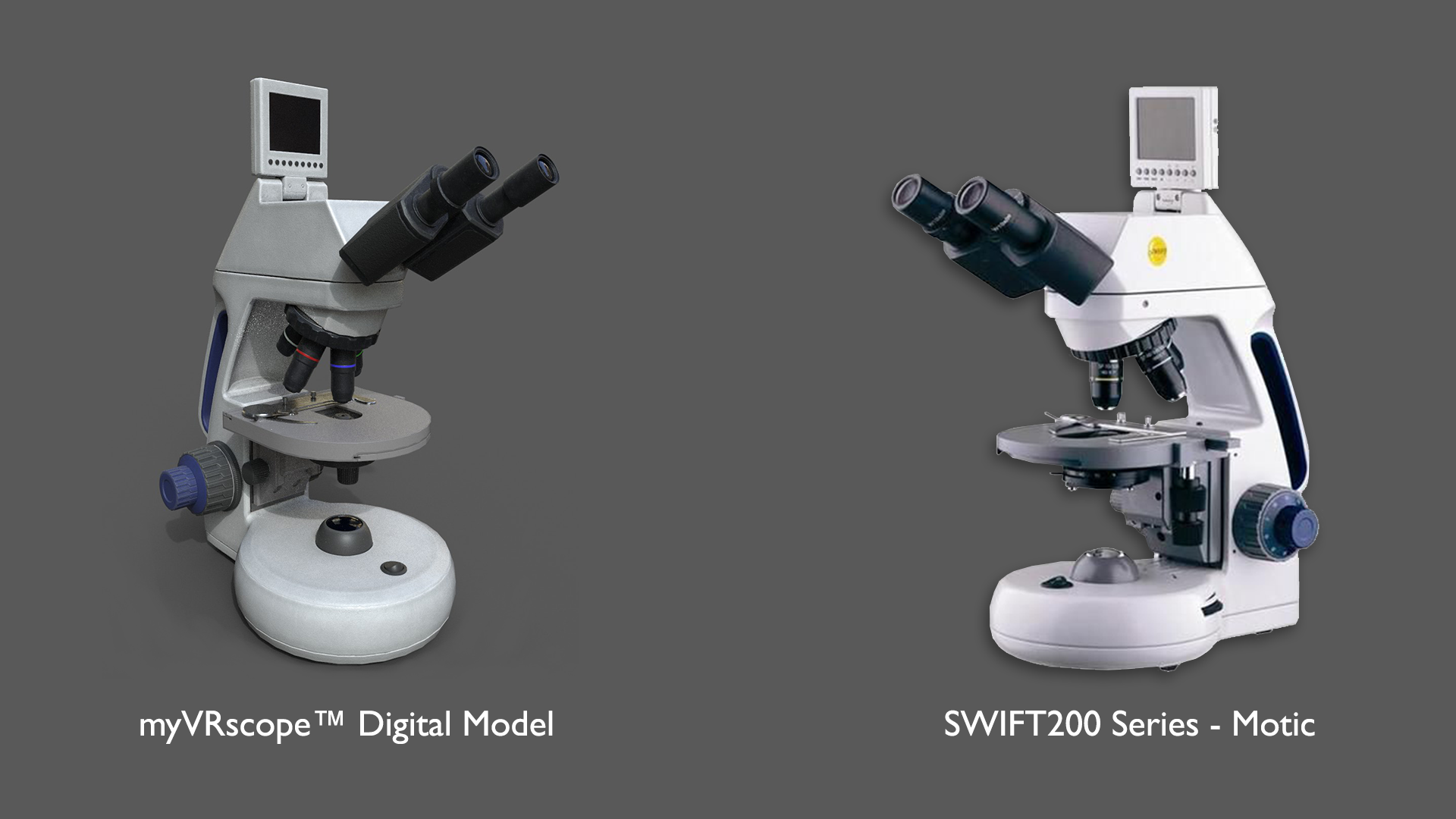 Pulling it all together in Unity3D, Vasco Torres, ILX Development Lead developed the 'full stack' for delivery with Oculus Go, Oculus Touch, including the cloud-based enterprise on AWS.
For more information, or to demo myVRscope™ yourself - please contact This email address is being protected from spambots. You need JavaScript enabled to view it..